Daca: Trump 'to scrap' amnesty for young immigrants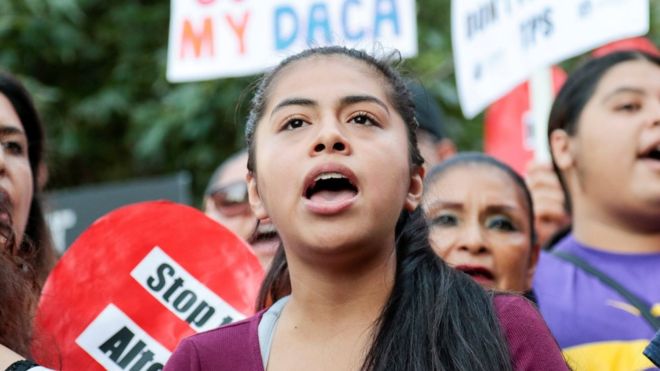 Daca
US President Donald Trump has decided to scrap a programme that protects young undocumented immigrants, according to reports.
He will give Congress six months to draw up legislation to replace the Deferred Action for Childhood Arrivals (Daca), sources quoted by US media say.
The decision, first reported in Politico, is considered a compromise amid strong support for the scheme.
However, the sources cautioned that Mr Trump could still change his mind.
He is due to formally announce his decision on Tuesday.
The Obama-era Daca programme protects hundreds of thousands of so-called "Dreamers" from deportation and provides work and study permits.
Trump backs proposal to curb legal immigration
Analysis: The immigration topic Trump keeps avoiding
According to Politico, the White House informed House Speaker Paul Ryan of the president's decision on Sunday morning.
Mr Ryan last week urged the president not to scrap the scheme, arguing it left many young people "in limbo".
"These are kids who know no other country, who were brought here by their parents and don't know another home," he said.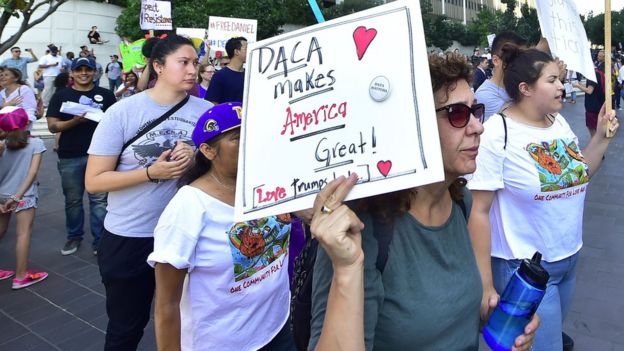 Mr Ryan is one of a growing number of Republican lawmakers and business leaders to speak out against scrapping the programme.
While campaigning for office, Mr Trump took a hard-line on immigration and said he planned to "immediately terminate" the Daca programme.
But since then he has said he finds the subject "very, very tough".
He said he intends to show "great heart" in dealing with what he described as, in many cases, "incredible kids".
The decision to give Congress six months to draft an alternative is seen as a compromise after Republican lawmakers and business leaders from companies including Google, General Motors and Microsoft urged Mr Trump to retain the programme.
On Sunday, former Democratic presidential candidate Hillary Clinton tweeted: "Thanks to Dreamers' courage & resolve, #DACA has allowed thousands of young people to contribute to our society. We're better for it."
Advertisement:
Hookup with
sugar mummy in Nigeria
.
Click here to see the latest
Latest Recruitment in Nigeria
.